How to Create and Fund a Bitcoin Account (Wallet) in Nigeria (2021 Update)
This post will teach you how to create and fund a Bitcoin account (wallet) in Nigeria.
I bought my first Bitcoin in 2016, and since then, I have been educating people on what Bitcoin is, how it works, and how to keep it safe.
By the end of this post, you would have created your own bitcoin wallet and funded it.
I also have bonus content on how to trade bitcoins profitably at the end of this post.
So, let's get started!
Post Summary
I will walk you step by step on how to create your Bitcoin account while making sure you understand it.
Here is what I will discuss:
Read until the end!
Bitcoin: A Quick Overview
Bitcoin is the world's First Decentralized CryptoCurrency.
This only implies that Bitcoin is;
A Currency i.e money – You can use it for the exchange of goods and services
Crypto – It is encrypted thus secure and anonymous.
Decentralized – No one, not even the creator, has full control over it. And:
Bitcoin is the first of its kind.
Satoshi Nakamoto invented it. No one knows who he is – if he is a single person or a group of people – except the name.
You can learn more about bitcoin by visiting our Bitcoin tutorial.
Follow me to the next section.
Differences Between A Bank Account And A Bitcoin Wallet.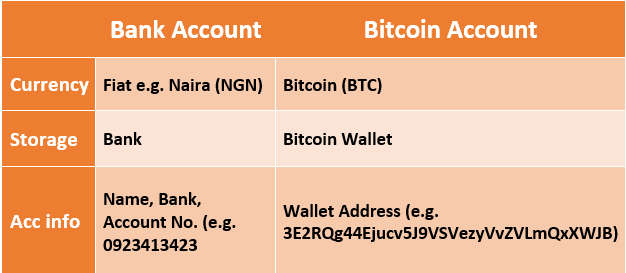 Note: 
There is no such thing as a "Bitcoin Account."
The correct term is "Bitcoin Wallet".
However, I used the word "account" so that you can relate it to your bank account.
Back to the main business:
Three persons have access to the money in your bank account; You, the Bank, and the Government.
On the other hand, Bitcoin was created in such a way that only you have access to your bitcoins, not the government or the inventor of bitcoin.
This is why it is called Bitcoin Wallet.
You can relate this to the wallet in your pocket as only you have access to the money in it unless you give it to someone.
However, it is worth noting that if you created a bitcoin wallet on an exchange, that exchange may have access to that wallet.
You only have sole access to your wallet if you are using a cold wallet.
Crypto Investment publication, TheMoneyMongers.com also recommends keeping your cryptos in a cold wallet to have complete ownership and safety of your crypto assets like bitcoin.  
Talking of wallets, let's look at the types of Bitcoin wallets below.
I hope you are following?
If you have a question at any point, write it down and ask me in the comment section
Types Of Bitcoin Account (Wallet)
There are basically two types of wallets:
Cold wallets
These are wallets that are not connected to the internet and thus are hack-proof. There are 3 major types:
This is software downloaded to the desktop computer.
The issue with this wallet is that if your computer crashes or is destroyed, you may lose your wallet.
Always back up your wallet to avoid this.
There is a story of a man who threw away his computer hard drive only to later discover he had 10,000 BTC in it. That bitcoin is lost forever.
This is when you print the Private Key and Public key to your wallet on Paper.
The risk here is that if the paper is destroyed, you will lose your bitcoin.
This is the most secure bitcoin wallet.
It is a hardware device usually shaped like a USB flash drive or a mini smartphone.
Good thing is, if it is damaged or stolen, you can always buy another one, enter your passphrase, and retrieve all of the bitcoins from the prior device.
On the downside, hardware wallets are not free, you have to buy them.
Note:
Bitcoins, in reality, are not stored anywhere; what is stored is the Private key and Public key.
The Private key is what you use to access your bitcoin in the bitcoin network; anyone who has your Private key controls your bitcoins. 
However, the public key is used to generate a bitcoin address ( the bitcoin address is like a bank account. It is what you give to someone to send you bitcoins)
Also read – 6 Best hardware wallets for Bitcoins and other Cryptos.
I hope you are still with me, anytime you feel lost, leave me a comment and I will get back to you.
Now let's check out hot wallets.
Hot Wallets
These are wallets that are connected to the internet; also known as 'Web wallet' or 'Online wallet'.
The majority of them are offered by bitcoin exchanges.
As a result, two people have access to your bitcoins on a hot wallet: you and the Exchange.
A Bitcoin Exchange is where you can buy and sell Bitcoins.
The exchange does not give you your Private key but lets you create a password to access your bitcoins.
Hot wallets are most convenient since they allow you to access your Bitcoins from any internet-enabled device, anywhere.
Unlike cold wallets, hot wallet providers will allow you to reset your password if you forget the password to your wallet.
For added convenience and ease, most hot wallets have an app for Android and iOS.
Sounds all good, right? Yeah, but don't get too comfortable. This convenience comes with a price.
Hot wallets are online wallets, thus they are susceptible to hackers.
A hacker can guess your password, trick you into giving it up or hack the exchange.
Early Bitcoin investors have lost their Bitcoin in this way.
The most prominent one is the hack of MTGox in 2011 and 2014, which resulted in the theft of 750,000 BTC (worth $350 million).
Investors holding their Bitcoins on this exchange lost their Bitcoins.
Now, don't be scared. You can actually relax because hot wallets now have more sophisticated features to ensure that your Bitcoin is safe.
This includes 2FA: – even if a hacker has your password, he will still not be able to access your wallet unless he is also physically holding your mobile phone.
Also, exchanges like Binance now put funds aside from their profit as insurance against hacks.
And this time Bitcoins exchanges are now registered and regulated.
4 Top Hot Wallets
Here are the top 4 hot wallets that I recommend.
They have never been hacked and have maintained their reputation; all of them have a mobile app.
The safety rule here is:
If you have Bitcoin worth millions of Naira, get a hardware wallet.
But, if you are just starting and your Bitcoin is worth a few thousand in naira, you can use a hot wallet.
Easy so far, right? By now, you are almost a pro on the matters of 'Bitcoin wallet'.
Now let's look at how to create one.
How to Create a Bitcoin Wallet Step-by-Step
In this section, I will walk you through how to create a Bitcoin wallet on Binance.
Binance is the largest crypto exchange in the world by trading volumes.
It is one of the best platforms to create a Bitcoin Wallet in Nigeria.
Now, let's create a bitcoin wallet on Binance with this step-by-step guide:
Step 1: Sign Up
Click here to visit Binance Official website
Once there, navigate to 'Download" menu to get the app.
The platform is accessible through the website. However, having the app is handier, especially when using a mobile phone.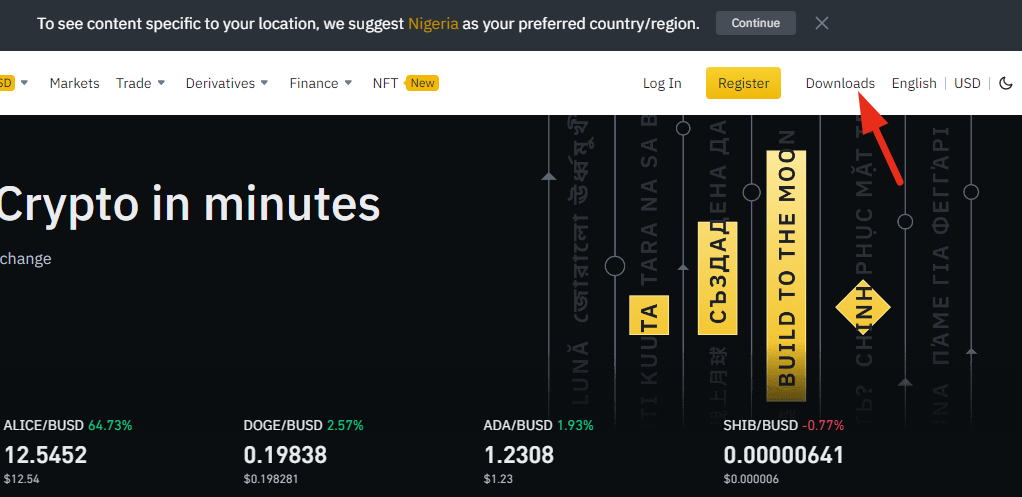 Click on "More Download options"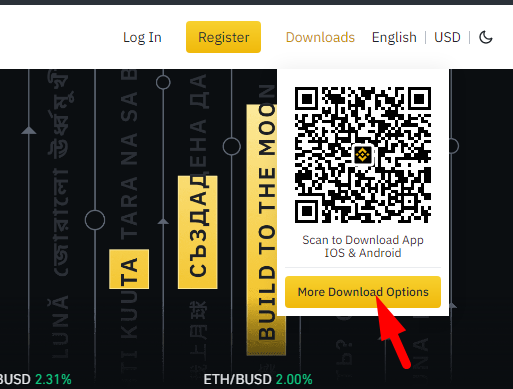 To begin your download, select one of the options. This will vary according on the device you're using.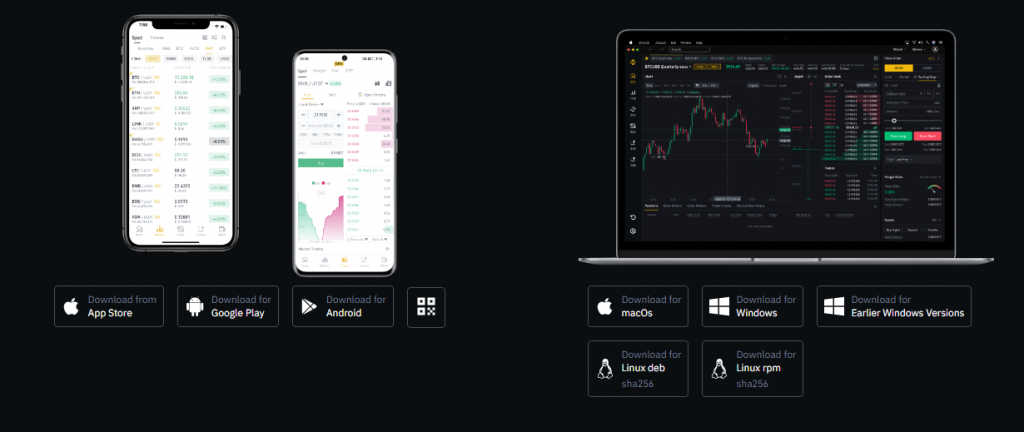 I'll guide you through the process of funding your wallet using the Windows app.
After you've downloaded the app, click "Register".
Enter your email address or mobile number, choose a strong password and click on "Register"
A verification code will be sent to you. It might take up to 2 minutes to arrive.
Step 2: Confirmation
Copy the verification code, then paste it into the boxes provided.
Fix the recaptcha to complete your verification.
After completing this stage, you will be directed to your dashboard.
Step 3: Locate Your Bitcoin Address
Congratulations! At this stage, you have created a Bitcoin wallet.
When you're on your dashboard, you can easily navigate to your wallet to start buying, sending, receiving, and storing bitcoin.
Click the wallet icon in the top left corner of your screen.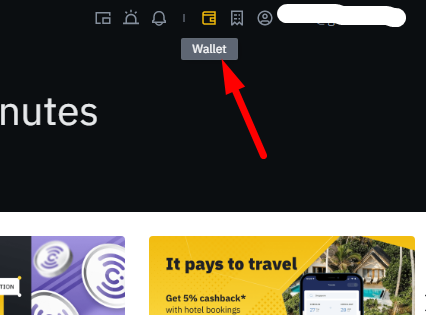 You will find a list of wallets provided by Binance based on the many services they offer.
"Overview" will display your total balance in all the available wallets.
"Fiat and Spot" is your main Bitcoin wallet, and it allows you to:
Buy bitcoins with fiat and withdraw fiat to your bank account (this service is no longer available to Nigerians)
Deposit and withdraw bitcoins to an external wallet
Perform spot trading
Transfer funds to other service wallets, including "Margin, Futures, P2P, Savings, etc.
You don't need to get confused at this stage.
Just know that the other wallets available are grouped according to their specific use.
Let's say you want to perform "Futures" trading, for instance.
To begin, you must first fund your "Fiat and Spot" account. (more on this later).
After that, you will now make a transfer from your "Fiat and Spot" wallet to your "Futures" wallet, and you will start trading.
I hope it is clear now?
Okay! Let's look at how to fund your wallet with bitcoins.
How to Fund a Bitcoin Wallet
Nigerians can fund their Binance bitcoin wallet in these two ways:
Through P2P
Deposit from external wallet
Note: Binance no longer supports the buy/sell bitcoin or any other crypto with NGN using "Credit/Debit Card" or the available "Third-party payment" options.
This happened as a result of the CBN's cryptocurrency ban in Nigeria.
However, you can easily fund your bitcoin wallet using Naira through peer-to-peer (P2P), which I will discuss below.
To fund your bitcoin wallet on Binance, you will need to complete your verification.
Now, you may ask why? It helps Binance to keep track of its users.
More importantly, it will help you not to fall for P2P scams.
Follow these steps to complete your verification:
Complete Your Verification
Select "Identification" from the "User Centre" menu.
Binance has three verification levels.
On your screen, you'll see the requirements for each level of verification.
The verification process is done in stages, so you'll need to finish the "Basic" before moving on to the "Advanced".
You don't have to complete all of the verifications before using the Binance bitcoin wallet.
But you must at least:
Complete the "Basic" to deposit bitcoin from an external wallet.
Complete the "Intermediate" to use the P2P platform.
Fund Your Bitcoin Wallet Through P2P
Click on your "P2P" wallet.
You will find a list of coins supported on Binance P2P. Select "BTC" and click on "Buy".
Once you are on the Binance P2P trading platform, select "P2P" or "Express".
I'm going to choose the "Express" option for this article. This is because it is more automated, and has zero (0) fee charge, as of July 2021.
Fill in the form provided. When you type in the sum of bitcoins you wish to buy in naira, the equivalent bitcoins will display. After that click on " Buy with 0 Fee".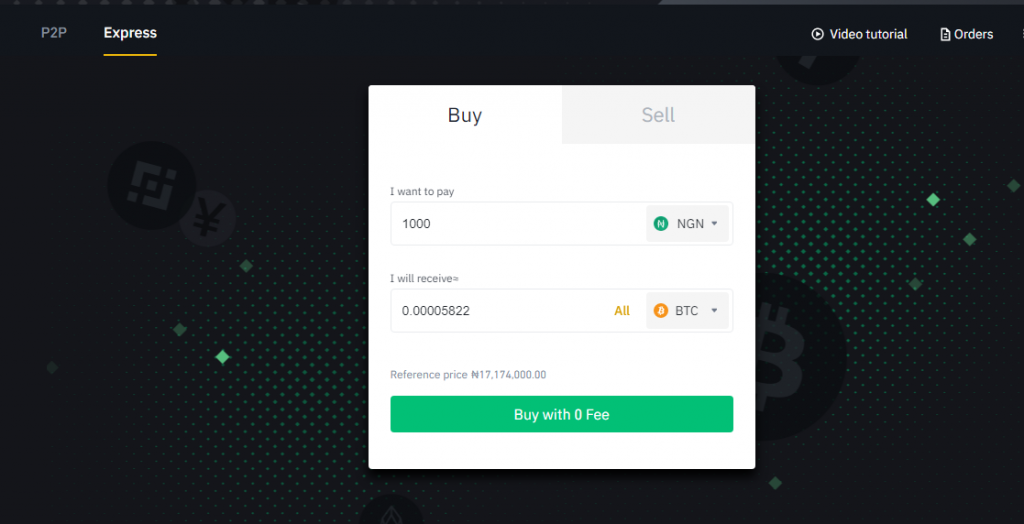 Click on "Confirm Purchase"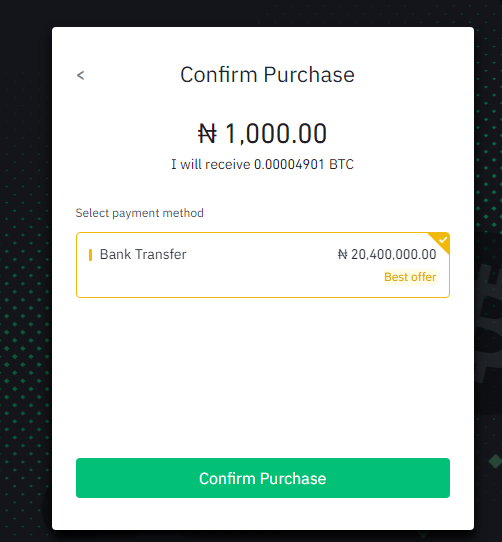 Binance will automatically create your order by matching you with the right seller.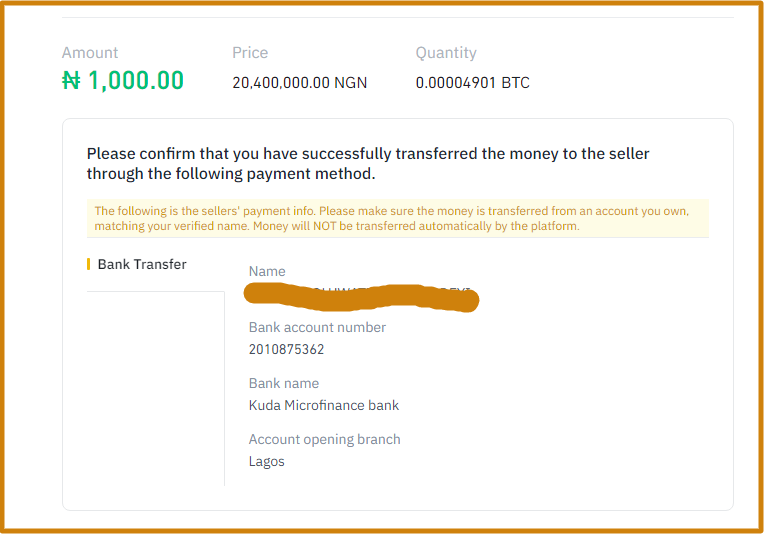 Make sure you read all of the instructions on your screen.
You'll then proceed to make your payment before the timer runs out.
After you have made the payment, click on "Transferred, Next".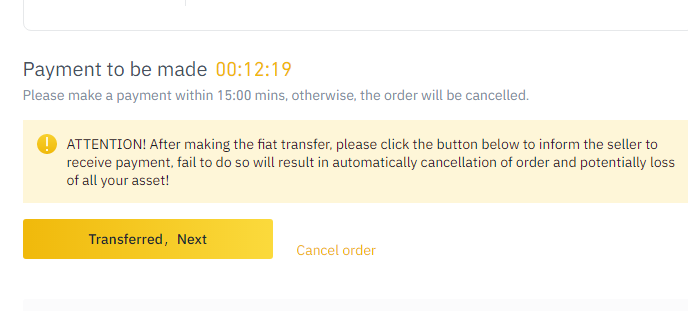 After a short while, your BTC will be deposited into your "P2P" wallet.
 If you prefer, you can "Transfer" the BTC to your " Fiat and Spot" wallet.
Here in this post, I explained how to buy/sell crypto using the popular "P2P" method. You will also learn how to trade safely on Binance P2P.
NOTE:
The Reference Price is like the best price for BTC on the P2P market.
It shows you this because it does not yet know the amount of BTC you will be buying.
But when you enter the amount you want to buy, it will show you the Best Offer i.e the best selling price for the quantity you want to buy.
Deposit From External Wallet
To deposit BTC from another wallet:
Say your friend wants to send you BTC or you want to transfer your BTC in another wallet to Binance.
You will be able to do that following these steps:
Go to "Wallet" and select "Fiat and Spot".
Select "BTC" and click on "Deposit"
Select the "BTC Bitcoin(BTC)" network from the "Deposit to" drop-down box.
A bitcoin address will display, send the BTC to that wallet address.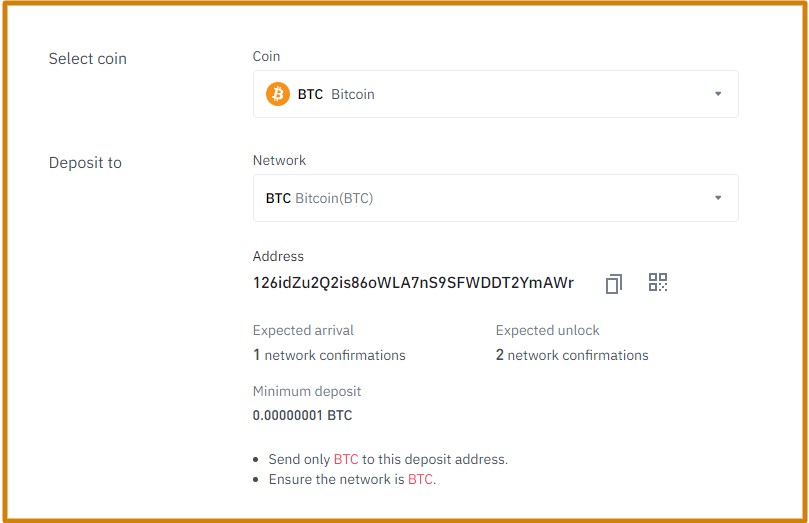 That is all!
You have successfully created and funded your Bitcoin account (wallet).
Easy, right?
P.S:
If you want to withdraw your funds from Binance, you can still do that via P2P and have the fund sent directly to your bank account.
You can also check out this post which gave a detailed guide on other ways to withdraw.
As you grow in the crypto space, you will find it necessary to have an account with more than one exchange/wallet provider.
Therefore, I will not end this section without referring you to these exchanges as it is vital in your crypto journey.
Huobi (This is one of the biggest crypto exchange in the world in terms on trade volume. it supports the Naira via P2P)
Remitano: (It is the safest P2P exchange)
Let's meet in the FAQ section, shall we?
Frequently Asked Questions (FAQs)
1. Is it free to register a bitcoin account?
Yes, it is totally free, you can sign up with Binance for free.
2. Can I withdraw BTC for naira in my bank account?
Yes, however, you must first sell your bitcoins for naira on a P2P platform.
When you sell your bitcoins to someone, they will deposit the naira to your bank account.
This tutorial will walk you through how to sell your Bitcoin for naira on Binance P2P.
Do you want to learn how to trade cryptocurrencies profitably?
We developed a perfect course to help you master Cryptocurrency Trading.
Go to www.ctmastery.com to enrol. You can also join our Telegram community at https://t.me/ctmastery for more information.
?
Conclusion
Finally, we have come to the end of the post.
Before I go, let's do a quick recap of what we have learnt. So far, we have learnt;
The difference between a Bank account and a Bitcoin Wallet
We shouldn't say Bitcoin account, rather say Bitcoin wallet
Types of bitcoin wallet, their Pros, and Cons
How to create and fund a Bitcoin wallet
I told you earlier to note down your questions and comments.
Now is the time. Tell me in the comment section:
Was this tutorial simple enough and did you learn anything new?
Have you created your Bitcoin wallet? Or maybe you have a question.
Let me know in the comment section below.
Bitcoin is one of the most important developments in the 21st century.
Everyone needs to know about it and we can do this by sharing the knowledge.
I have done my part by creating this content; now it's your turn.
Share this post on your favourite social media so that more people can be informed. Cheers!
Bonus 1 – How to Trade Bitcoin Profitably
In this section, I'll show you how to trade your Bitcoin for other cryptos on Binance's spot market.
Select "Spot Market" and click on "BTC Market".
Once more, select your preferred BTC trade pair (you can do that easily with the search box).
Let's say you want to trade ETH/BTC, then you click on "Trade".
You place an order to buy by clicking on 'BUY". Then go on to select your order type.
Enter the amount of BTC you want to spend, the equivalent ETH you will receive will be displayed.
Then click on "Buy ETH".
When your order is filled, you will receive ETH in your wallet.
However, this will also depend on your order type.
Learn what order types are and how to place the various "order types" on Binance
You can also do the same if you wish to sell your ETH for BTC, but this time you have to click on "SELL" and not "BUY".
In addition, Binance offers NGN trading pairs for BTC and ETH.
However, to begin trading these two pairs, you must first fund your NGN wallet using the P2P platform.
Bonus 2: How to Create and Fund a Bitcoin Account in Nigeria on Quidax.
I will be walking you through how to create a Bitcoin wallet on Quidax. 
Step 1: Sign Up
Click here to go to Quidax
Depending on if you are using a mobile phone or computer, click on 'Create Account' at the top right corner or 'Get Started'
Fill in your info and click 'Create Account' at the bottom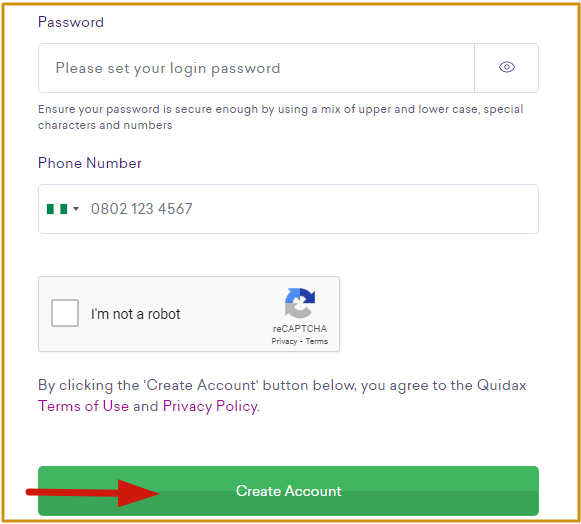 Make sure you entered your correct email address and phone number because you will need to confirm it.
Step 2. Verify Account
You will receive a verification mail
Open the mail and click on "Activate Your Account" button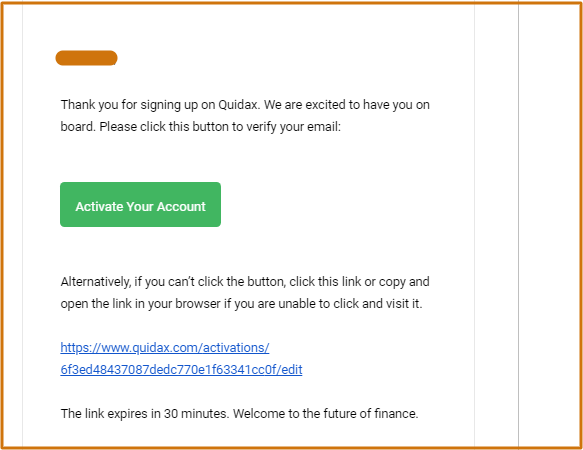 Continue your phone number verification . Click on "Send Code", then check your phone messages.
Enter your the code and click on "Verify Phone Number"
Click on 'Verify Level 1: to begin upgrading your account.
Enable 2FA for added security (Optional)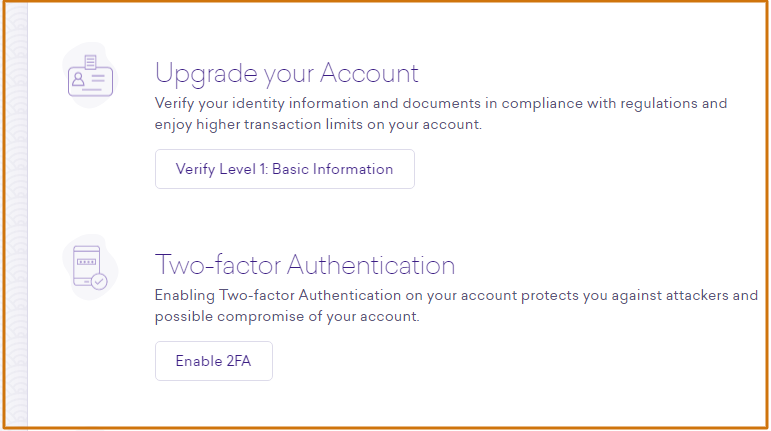 Note: Quidax has up to Level 4 account. If you don't verify your account to Level 3, you cannot buy or sell Bitcoins using the P2P on Quidax.
Step 3: Locate your bitcoin address:
Click on 'Wallets' (This will take you to the wallet page for Bitcoin and other cryptos)
Click 'Bitcoin' in the Bitcoin section to view your Bitcoin wallet address.
Note that we have created a Bitcoin wallet and you can copy and regenerate it anytime you want.
I discussed how to fund your Quidax bitcoin wallet below.
Like Binance, Quidax only allows you to fund your bitcoin wallet with NGN through the P2P platform.
You can, however, fund your BTC wallet with the USDT token using the "Instant Buy/Sell" option.
Click here to learn how to fund your Quidax bitcoin wallet using P2P.
Note:
Quidax supports the trading pair of NGN against BTC and others supported crypto from the "Order book".
However, before you start trading these pairs, you must first fund your NGN wallet using the P2P platform.
Further Read: